Aerogility brings multi-agent simulation to the Predictive Aircraft Maintenance Conference 2019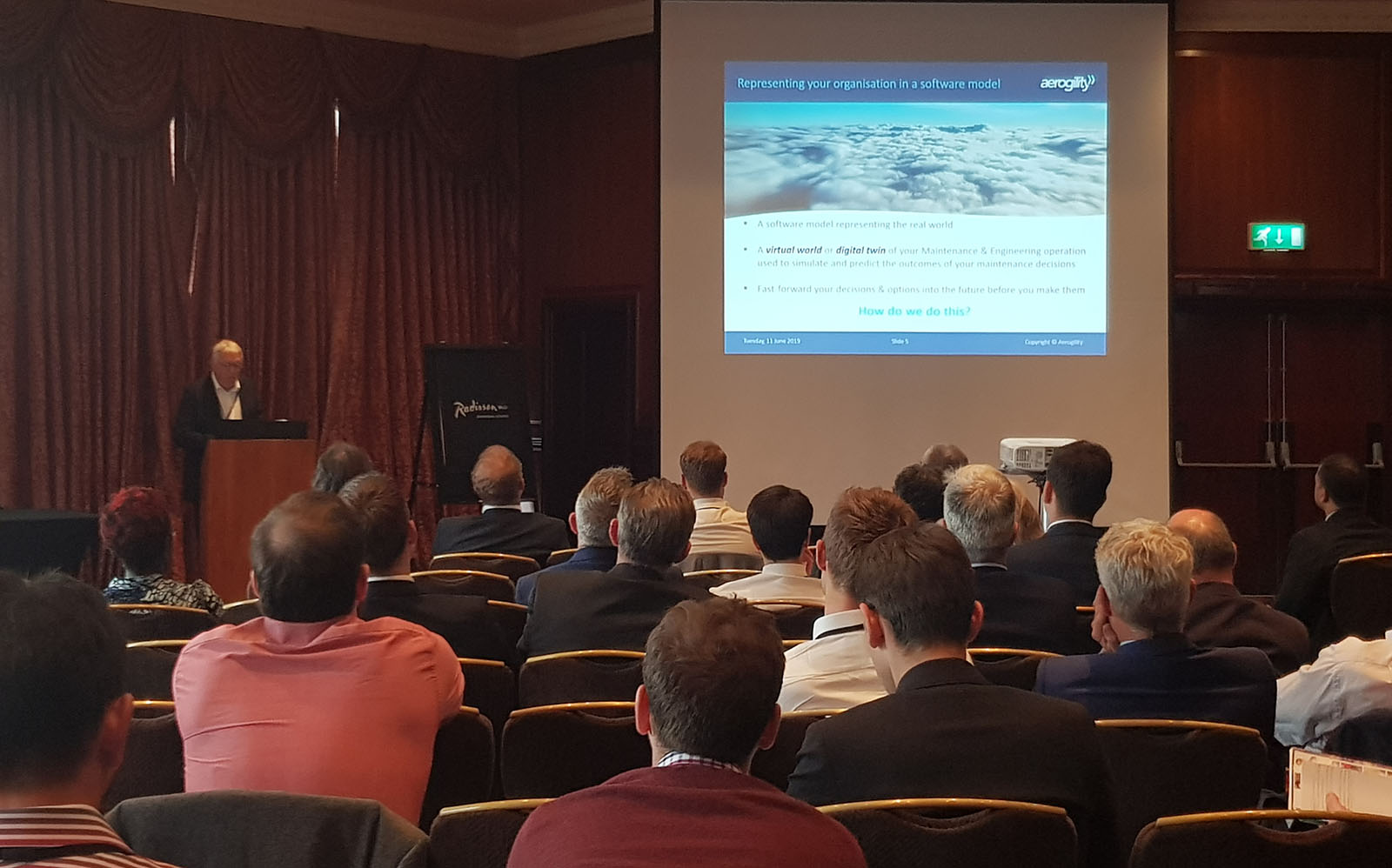 Aerogility CEO, Gary Vickers, speaking at the Predictive Aircraft Maintenance Conference 2019
Experts in the field of multi-agent simulation for aircraft maintenance planning, the Aerogility team shared their knowledge at MRO Management's Predictive Aircraft Maintenance Conference, held at Heathrow in June 2019.
Aimed at a wide range of MRO professionals, the conference welcomed speakers from leading airlines, OEMs, software specialists and MRO solutions providers, such as Airbus, easyJet, Virgin Atlantic, Honeywell and our own Gary Vickers, CEO of Aerogility. The presentations gave the team the fantastic opportunity to hear directly from airlines about how they are currently using predictive analytics in their maintenance planning. As well as this, we saw examples of digital analytic studies on predictive aircraft maintenance for ageing fleets and learnt more about the challenges facing the aerospace industry when it comes adopting such technologies.
Gary Vickers took to the stage to demonstrate the fundamental value of model-driven multi-agent simulations in accurate predictive maintenance scheduling. In his talk, Gary explained that the purpose of multi-agent software simulations is to fast-forward into the future, so MRO teams can try out and compare different strategies, maintenance polices and planning options and see the impact in a safe software sandbox.
Following the talk, Gary told us, "Taking part in industry events is extremely rewarding for the team, giving us the chance to showcase our hard work in optimising the Aerogility software and our in-depth understanding of predictive analytics in maintenance scheduling. We benefit hugely from expanding our knowledge of the current trends, challenges and opportunities in the MRO industry and making connections with fascinating people and organisations in the aviation space."
Read more about Gary's talk in Airline Economics.