easyJet makes easy upgrades into engine forecasting with Aerogility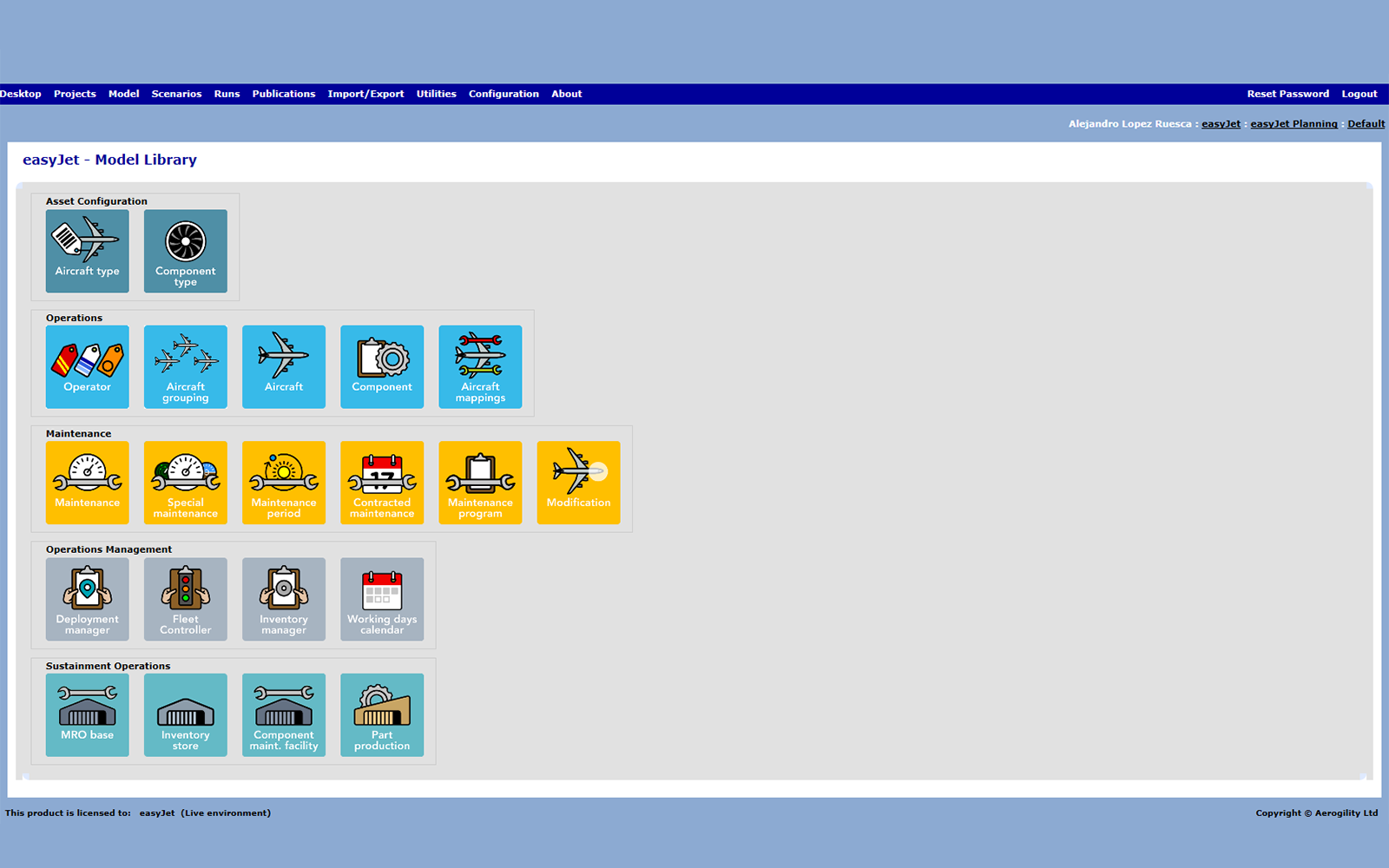 The easyJet model library inside Aerogility
Following the successful deployment of Aerogility's ground-breaking maintenance planning solution in December 2017, easyJet is today announcing it is adding two significant capabilities to its MRO forecasting solution: engine shop visits and landing gear overhauls.
Aerogility's multi-agent software gives easyJet a platform to perform extensive whole-aircraft MRO forecasting; a key benefit which is proving useful to both the maintenance planning and power plant departments.
Alejandro Lopez Ruesca, Head of Powerplant at easyJet, said, "Using Aerogility in our engine shop visit programme has significantly helped to simplify the process of producing our engine shop visit plan. It is a great piece of software; very user-friendly, incredibly fast, with support provided by an always helpful group of people."
Phil Cole, Business Manager (Civil Aviation) at Aerogility, added, "It gives us a great sense of pride that easyJet has expanded its deployment of the Aerogility maintenance planning platform. It is brilliant to see easyJet extending its use of Aerogility across several departments. We are proud that no other products compare to Aerogility in terms of component scheduling. We often have prospective clients, who currently only use spreadsheets, interested in being able to forecast the maintenance requirements for not only their heavy-base maintenance, but also their landing gear overhauls and engine shop visits."
easyJet rolled out the engine maintenance component output in December 2018. The engine maintenance planning is particularly complex because there is a mixture of leased and owned engines. Leased engines are sent in for maintenance as close to the due date as possible, even if this means forfeiting yield on owned engines. Leased engines also have to be reinstalled on their titled aircraft when it retires, which requires a high level of organisation and planning.
With the help of Aerogility's platform, easyJet will be able to identify and evaluate the impact of one department against another, helping interdepartmental communication throughout the MRO process and allowing the airline to compare the effect each department has on the successful running of the airline over the next two years.